3D Printing is a technology where physical objects are created from digital files. It is a disruptive technology which has hasten the development in all fields around us.
In health care 3D printing is used to make resorbable airways, titanium implants, functional prosthesis and anatomical models. 3D printing has further developed into "Bio-printing " where live tissues and organs are produced.
In Ophthalmology Dr Hongsheng chiong used 3D printing for making smart phone adapters for fundus imaging which has been widely used for screening patients for fundus pathology. It is also used for making anatomic models and surgical models for wet lab training. 3D printed guided radio-therapy of uveal melanoma, ILM peeling and orbital implants has shown better results compared to conventional method.
Dr. Koltus has designed & developed blepharoplasty forceps and Dr Sergio Canabrava has developed a pupil expanding ring using 3D printing technology.
Luxexcel has started producing custom power glasses rapidly using this technology. 3D printed PCIOL are not far away in the near future.
Many researcher has started to produce artificial cornea by Bioprinting. Dr. Che J. Connon has produced a corneal stroma & Precise Bio has come up with a 4D printed cornea with endothelial cells which can be used for DSEK. 'Pandorum technologies' a Bangalore based Indian company has successfully engineered a "Liquid cornea" which can be used for therapeutic purposes, 3D printed retina is also nor far away in the future.
In Aravind Eye Hospital Pondicherry we have used 3D printing technology to make the following innovations.
Glass dropper – A devise used to help patients instill eye drops in their eyes
Model eye ball to practice direct ophthalmoscopy, I/O, 90D examination and fundus photography.
Microscope & FLACS light simulator to counsel patients.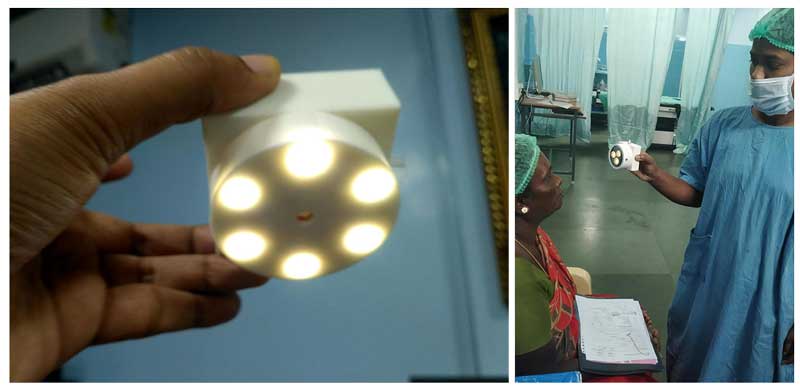 3D printed Masks & shields.
90D lens holder – To avoid fogging of 90D lens.
iOpener –To hold the eyelids of patients open during examination and instilling drops.
3D Printing is not just a technology to see and wonder but " A tool to realize our ideas and make them into useful product".
By,
Dr. Rajesh .V,
Medical Consultant,
Cornea and Refractive Services,
Aravind Eye Hospital,
Pondicherry